Art Collections
Hotel Éclat Beijing – Museum Hotel
Hotel Éclat Beijing is a luxury museum hotel that pays tribute to art with an incredible collection of fine works in its guestrooms and public areas – more than 100 pieces, including original sculptures and paintings from legendary artists like Salvador Dali, Andy Warhol, Fan Xiaoyan, Liu Ruowang, Gao Xiaowu, Shen Jingdong, Chen Wenling and many more…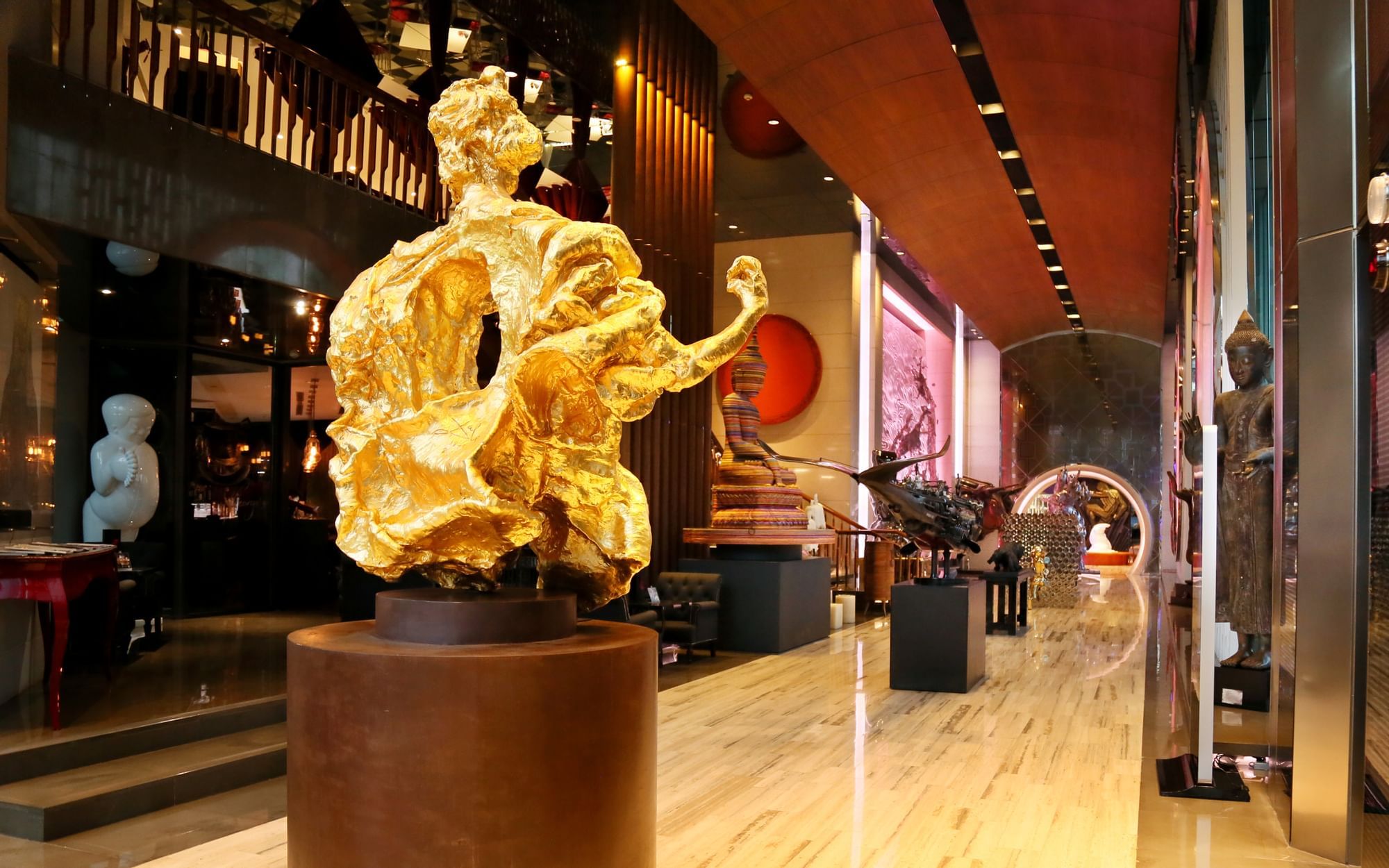 SALVADOR DALI
Salvador Dali (1904-1989) was a prominent Spanish Catalan surrealist painter born in Figueres, Spain. Picasso, Matisse and Dali are considered three of the most representative artists of the twentieth century. Renowned for his mastery, Dali was a significant contributor to the development of the 20th Century surrealism movement. His work transforms the imaginary world into exciting surrealist images. As one of the main representatives of this movement, Salvador Dali's thinking was mainly influenced by Freud's psychoanalytic theory. A number of his works can be found throughout Parkview Green and Hotel Éclat Beijing.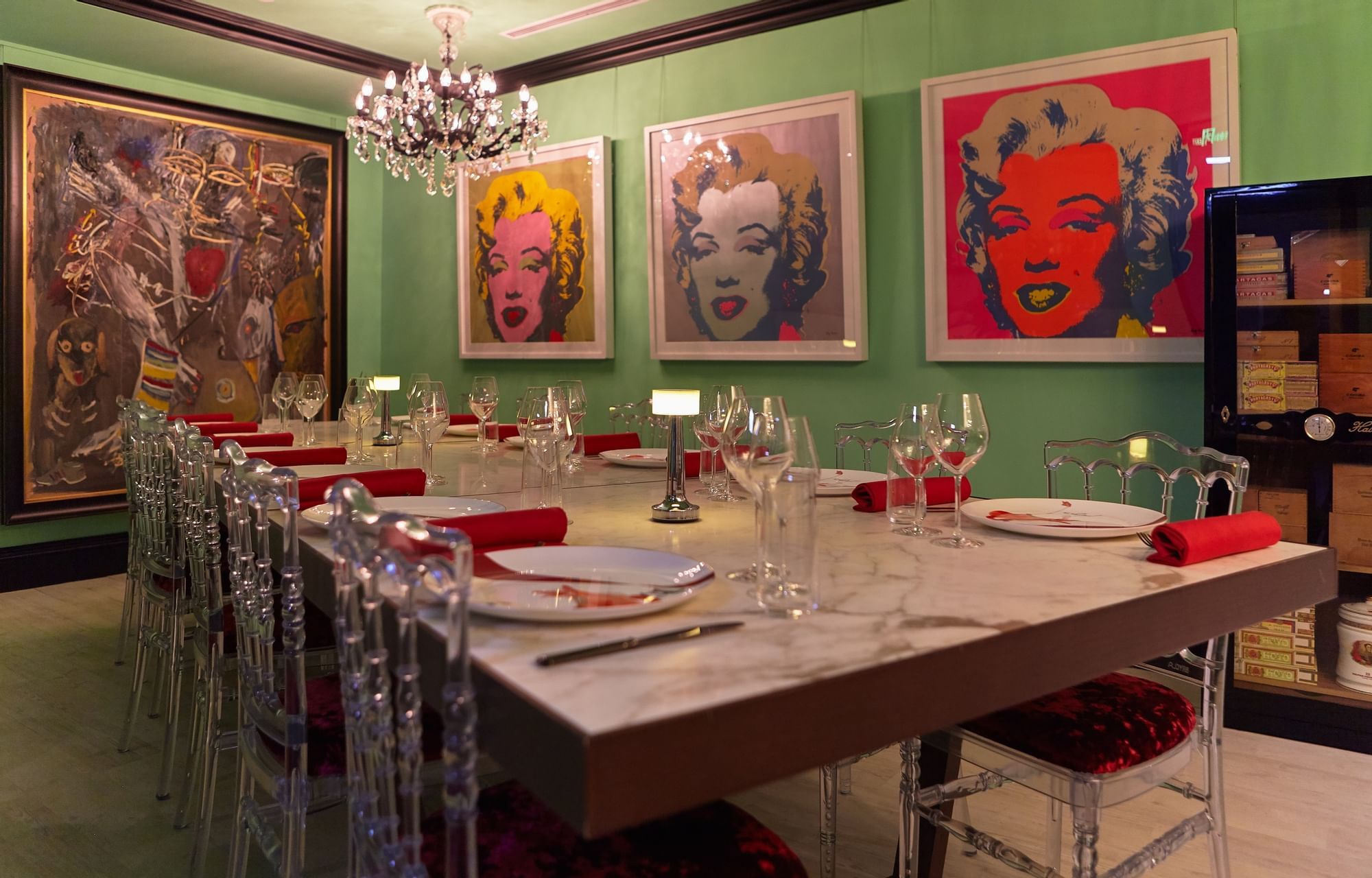 ANDY WARHOL
Andy Warhol (August 6, 1928 – February 22, 1987) was one of the most famous artists of the 20th Century and a leading figure in the visual arts movement known as pop art. His works explore the relationship between artistic expression, celebrity culture, and advertisement that flourished in the 1960s. Warhol's art encompassed many forms of media, including hand drawing, painting, printmaking, photography, silk screening, sculpture, film, and music. After a successful career as a commercial illustrator, Warhol became a renowned and sometimes controversial artist.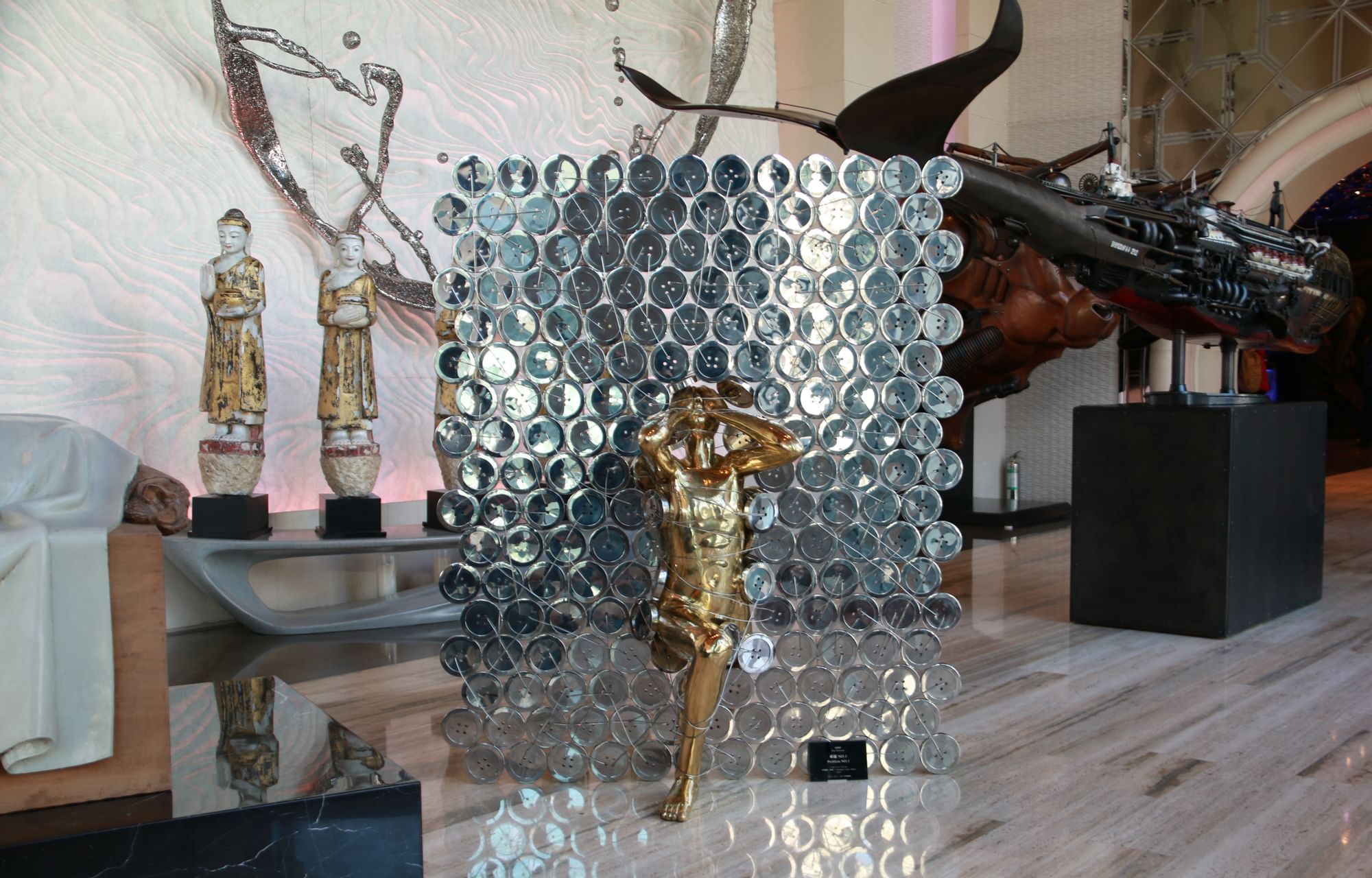 FAN XIAOYAN
Fan Xiaoyan was born in 1983 in the Shandong province, China. She graduated from China Central Academy of Fine Arts in 2008 and now lives in Beijing as a professional artist. The protagonists' identities in Fan Xiaoyan's work represent five aspects including bureaucracy, agriculture, industry, business, and soldiers. Stainless steel elements (such as mechanical parts and appliances) are closely related to the social status of figures. There is a stark visual contrast between the hard and cold stainless steel and the soft and delicate female body. As a contemporary artist, Fan Xiaoyan expresses realistic forward thinking about urban city dwellers or even the entire human race, as well as self-improvement and scientific technological development.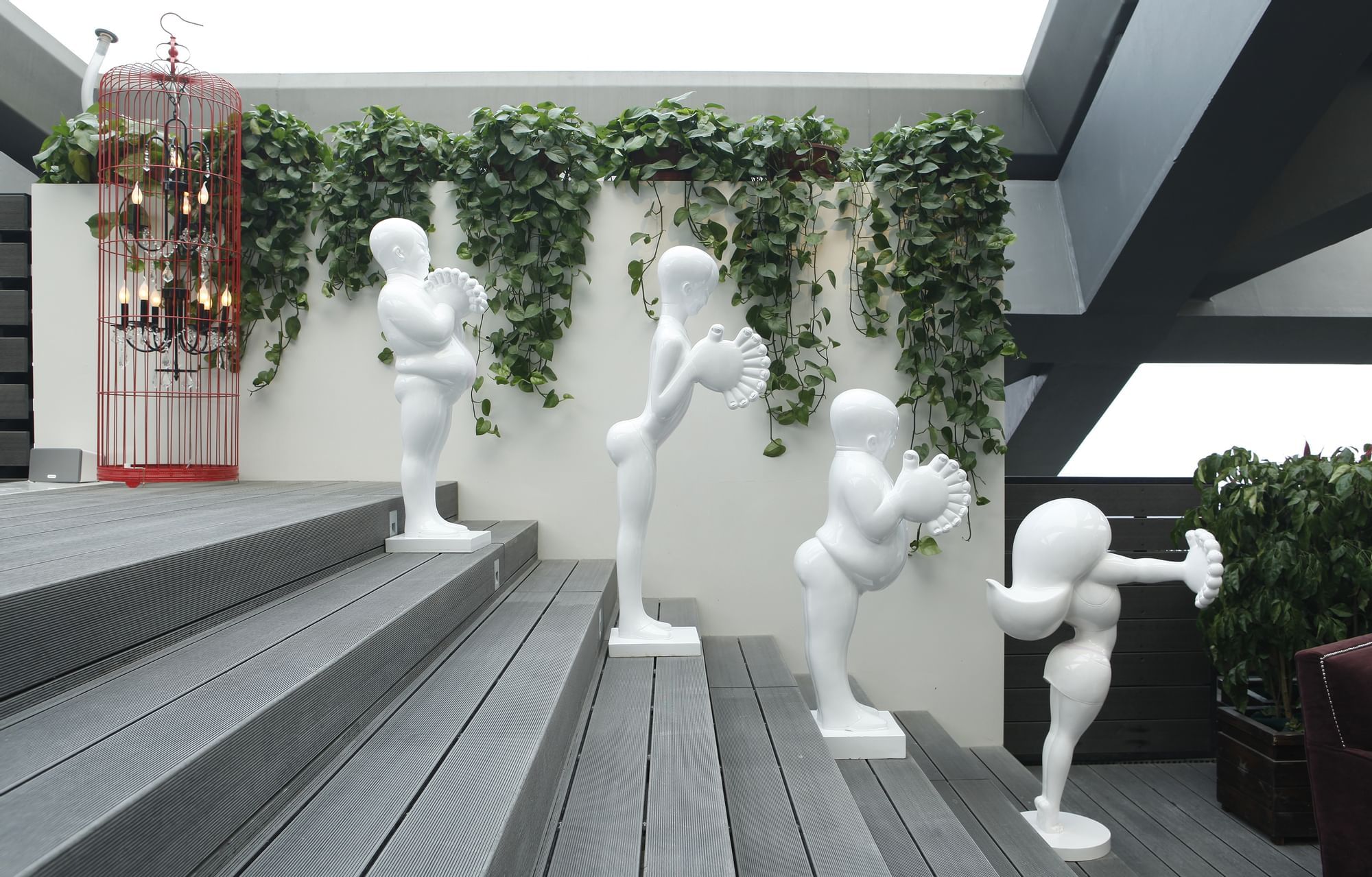 GAO XIAOWU
Gao Xiaowu was born in 1976 in Fujian, China. He graduated from the Sculpture Department in Xiamen Academy of Arts and Design, Fuzhou University in 1999 and later completed his study of modern sculpture at the China Central Academy of Fine Arts in 2004. He now lives in Beijing. Gao Xiaowu's figures present a signature posture and smile, these expressions constitute his view of society formed during the time of China's rapid economic change. From "Standard Time", "City Dream" to "Our Generation," these series of works not only reflect the people of China but also Gao Xiaowu's own exploration of self-identity.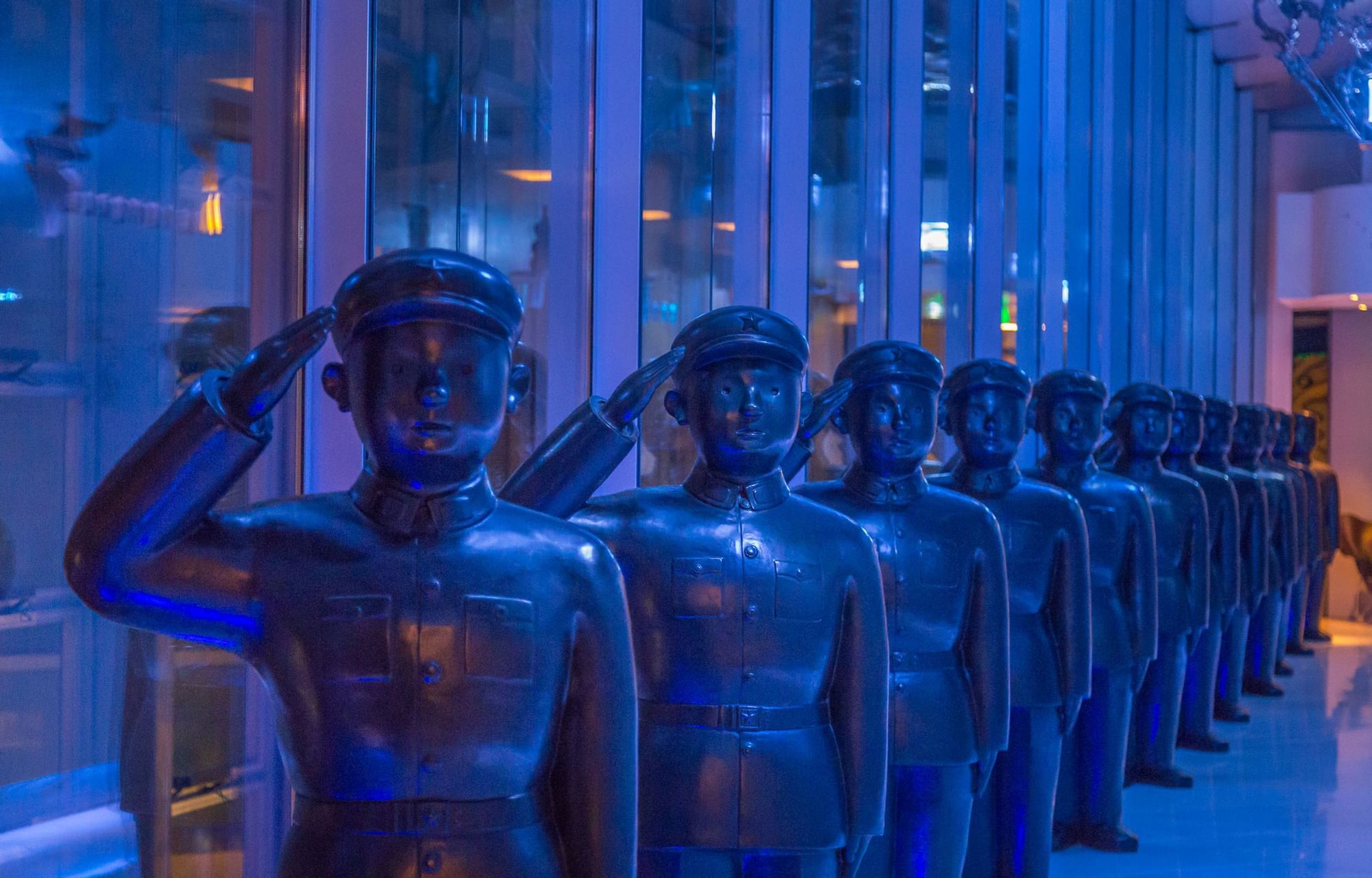 SHEN JINGDONG
Shen Jingdong was born in 1965 in Jiangsu Province, China. He graduated Nanjing Xiaozhuang Normal School in 1984, and in 1991 he graduated in printmaking from the Nanjing Institute of Arts. The inspiration for his work "hero" derives from a photo of himself in uniform. The artist's idea is very simple, in that he wants to portray himself as a hero. Shen Jingdong hopes his work will evoke memories of an early heroic age, ultimately becoming a form of communication and interaction with his audience that crosses space and time.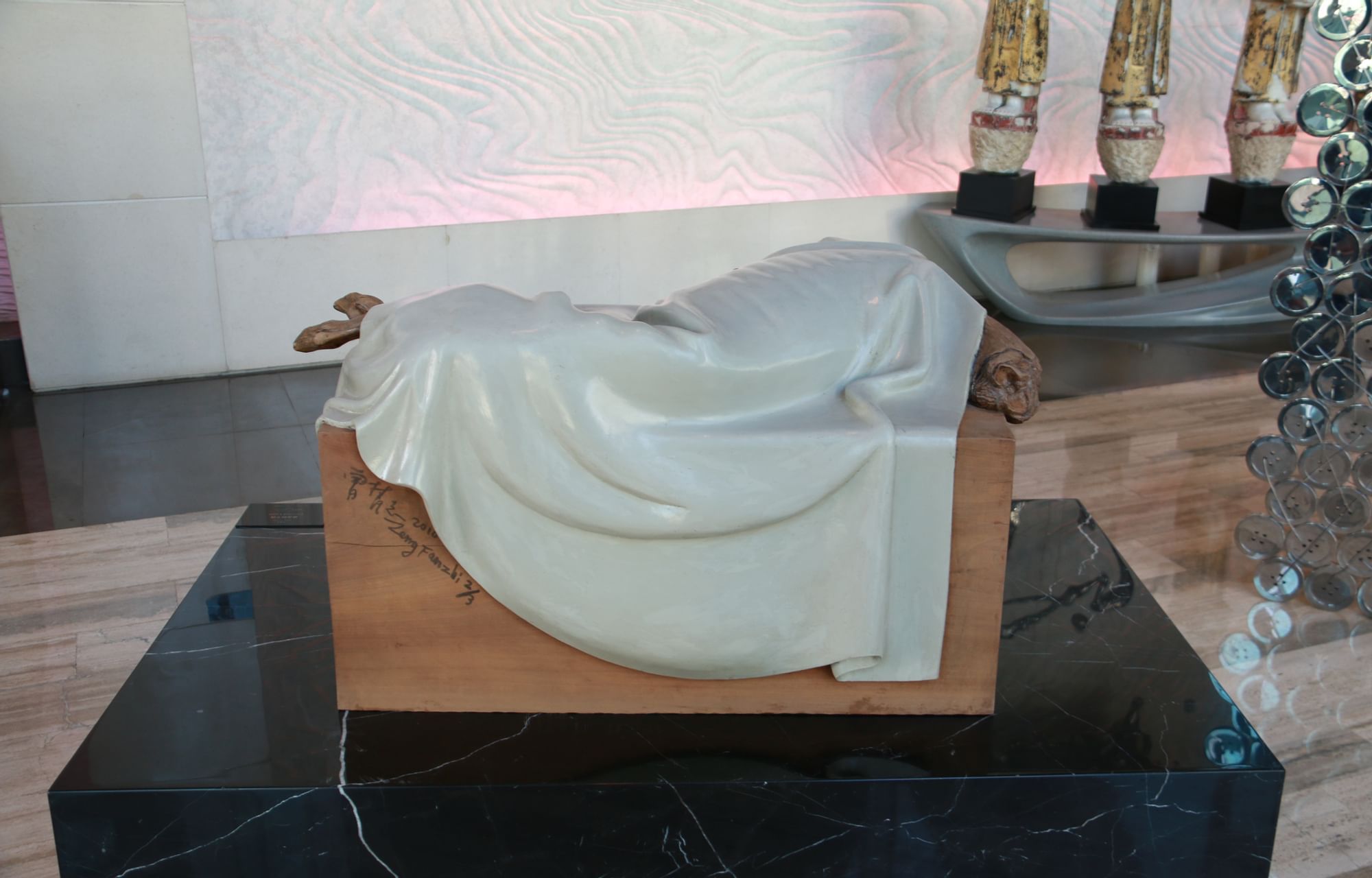 ZENG FANZHI
Zeng Fanzhi is one of the icons of the Chinese contemporary art scene over the past 25 years. In the beginning of his career in the late 80's, Zeng Fanzhi painted apocalyptic, expressionist images, manipulating modernist compositional effects to intensify his sinister version of reality. His representational work reveals the place of the unconscious and aberrant in the construction of experience. The over-sized, clenched hands of his subjects are almost more remarkable than their stereotyped faces and wide-open eyes. Zeng Fanzhi's art simulates the fatigue of the contemporary experience: the rush to acquire and consume to the point of alienation and detachment. Working in idiosyncratic ways, he reminds us how effective art can be when it collapses these various experiences. He traces the eruption of the corporeal into the optical sedition of visual art.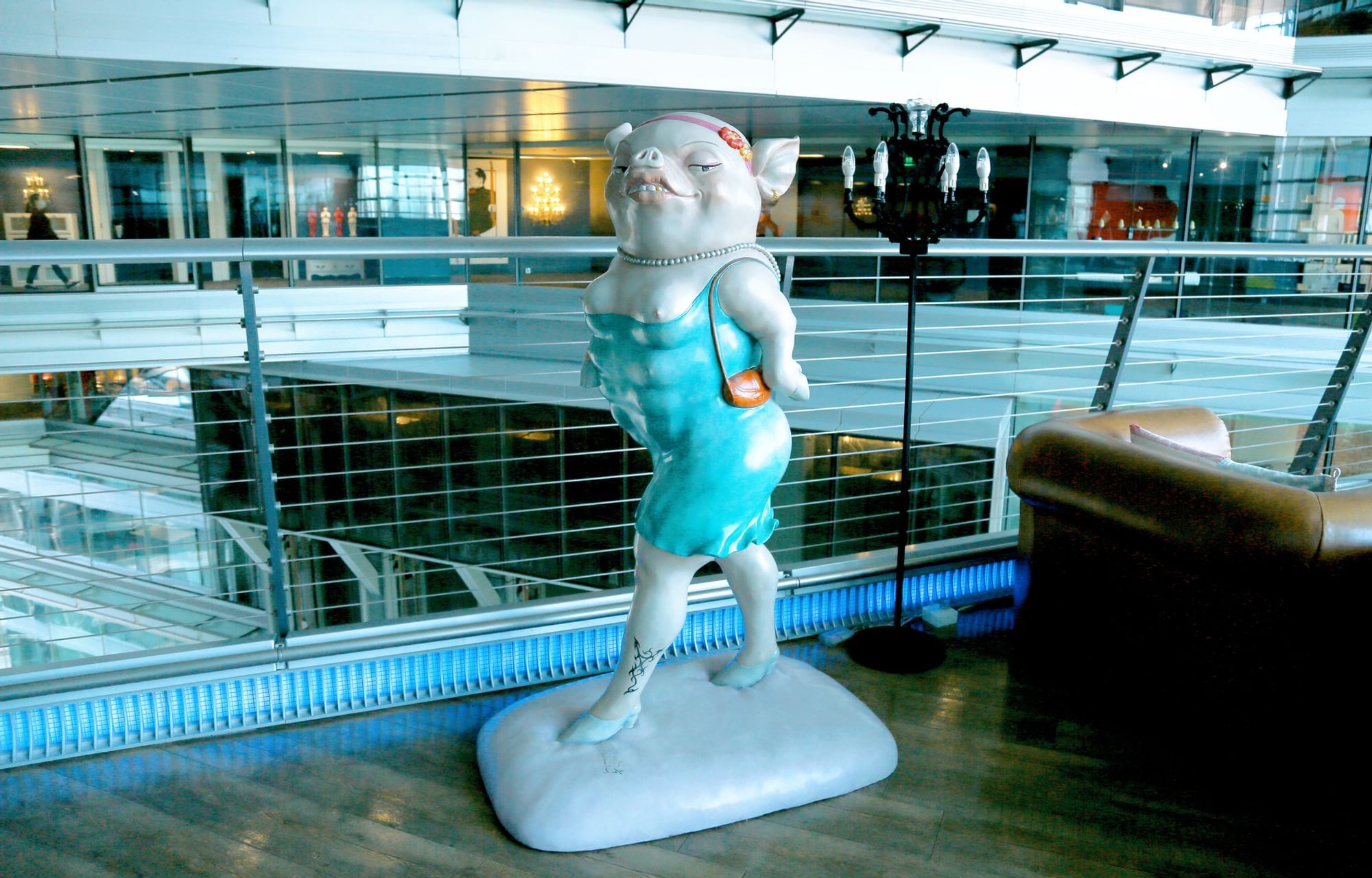 CHEN WENLING
Chen Wenling is one of the most important representative artists in Chinese contemporary art circles. With unceasing effort and creativity, he has produced many series of artworks since the 1990s. Particularly, works such as "Red Memory", "Chinese Landscape" and "Happy Life" have generated wide spread influence both in China and abroad. His artwork has participated in many important biennales at home and abroad, and is collected by a number of important museums and institutions.
For the last two decades, Chen Wenling has continuously explored and refined his art language and tried his best to express his precise perception and the characteristics of social reality vividly. His artworks are always humorous and powerful, with a romantic temperament of super-realism; they generate strong publicity and critical spirit. In recent years, many of his representative artworks have entered international public spaces. He is the earliest artist to explore the interaction between large-scale sculpture, public spaces and peoples among all Chinese contemporary artists.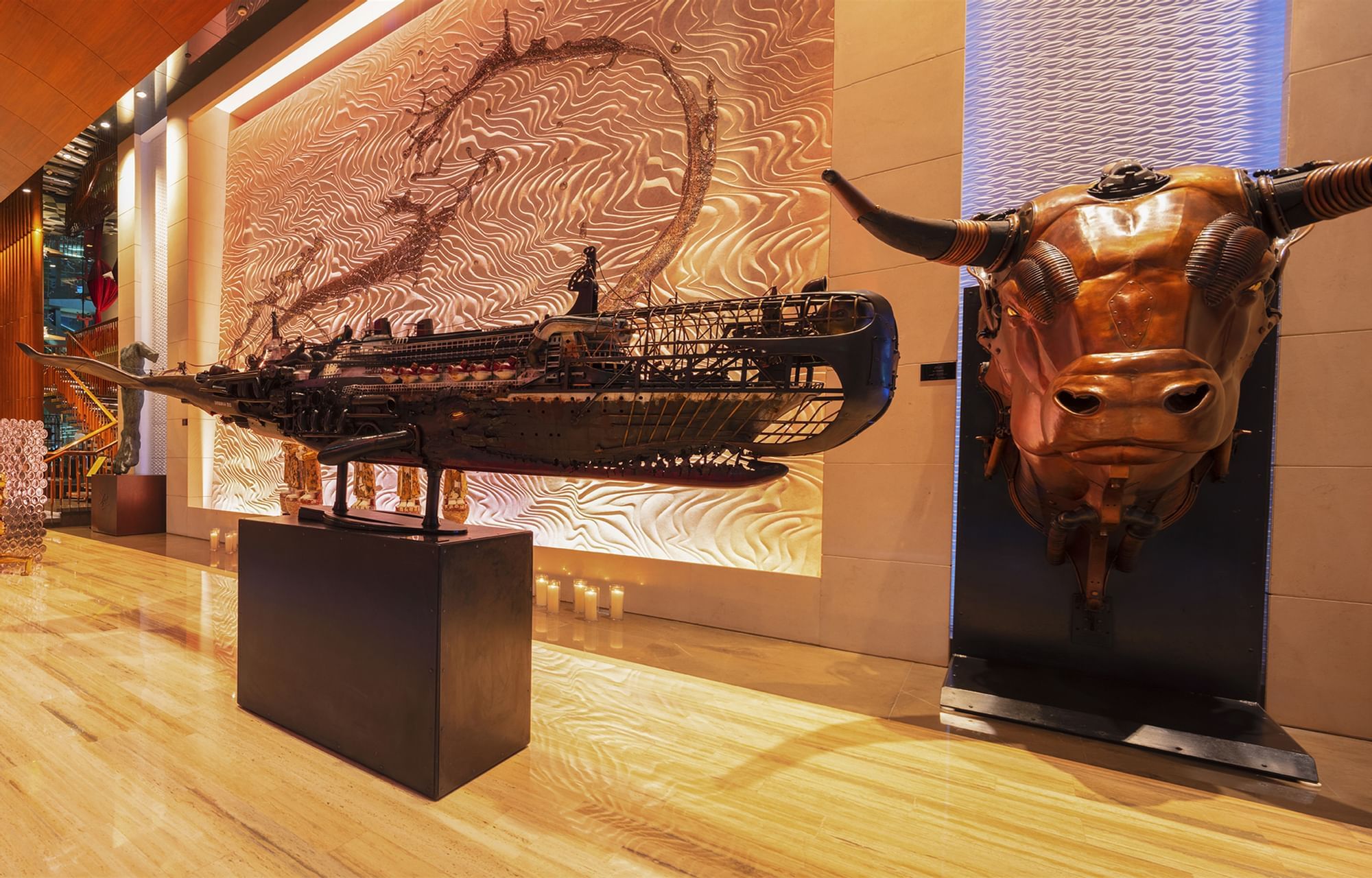 PIERRE MATTER
Pierre Matter was born in 1964. He tried his hand in oil, poster paint, watercolour, after having trodden numerous paths, from agriculture to the building profession, expressed through the comic strip to the base relief in stone. He finally settled on a form of sculpture which seemed to him evident and from which he delivers to us our reflection in this work, opening a window to us of its modest and transient traces of the artists of today, an invisible mark in a world of frenzy of speed.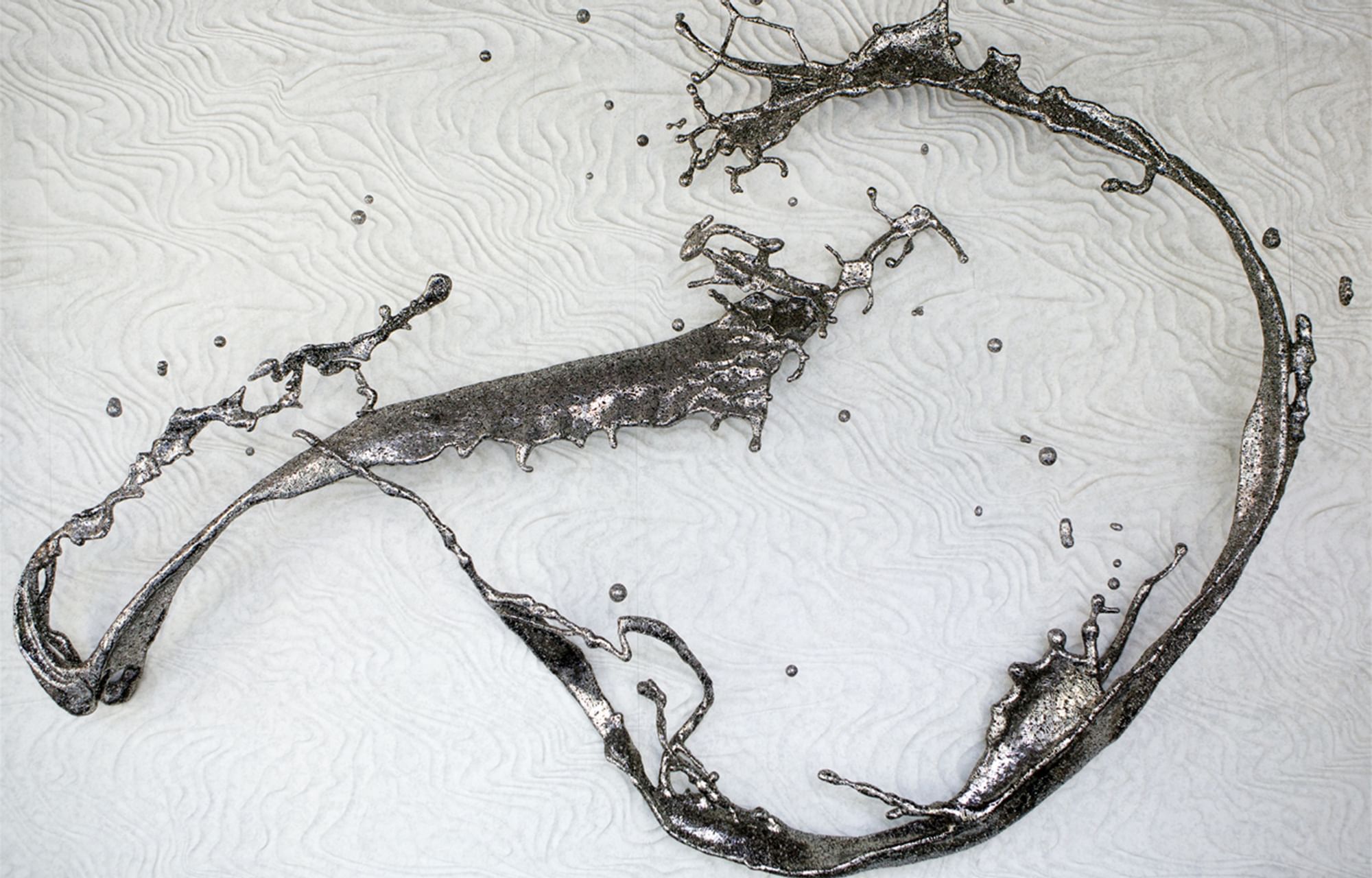 ZHENG LU
Zheng Lu's art is called "Interpreting Nonexistence". "Interpretation" refers to "reading or reading aloud". The sculptures are based on characters composed in lines or in passages for reading, so as to establish the connection between the artistic charm and the theme. "Nonexistence", on the one hand, derives from the pierced works' visual feature, and indicates the visual dissociation from the physical reality and the "existence" of the hollow frame; on the other hand, "emptiness", carrying the meaning of "nonbeing" and "etherealness", stresses the pursuit of the intrinsic beauty of life particular to the East.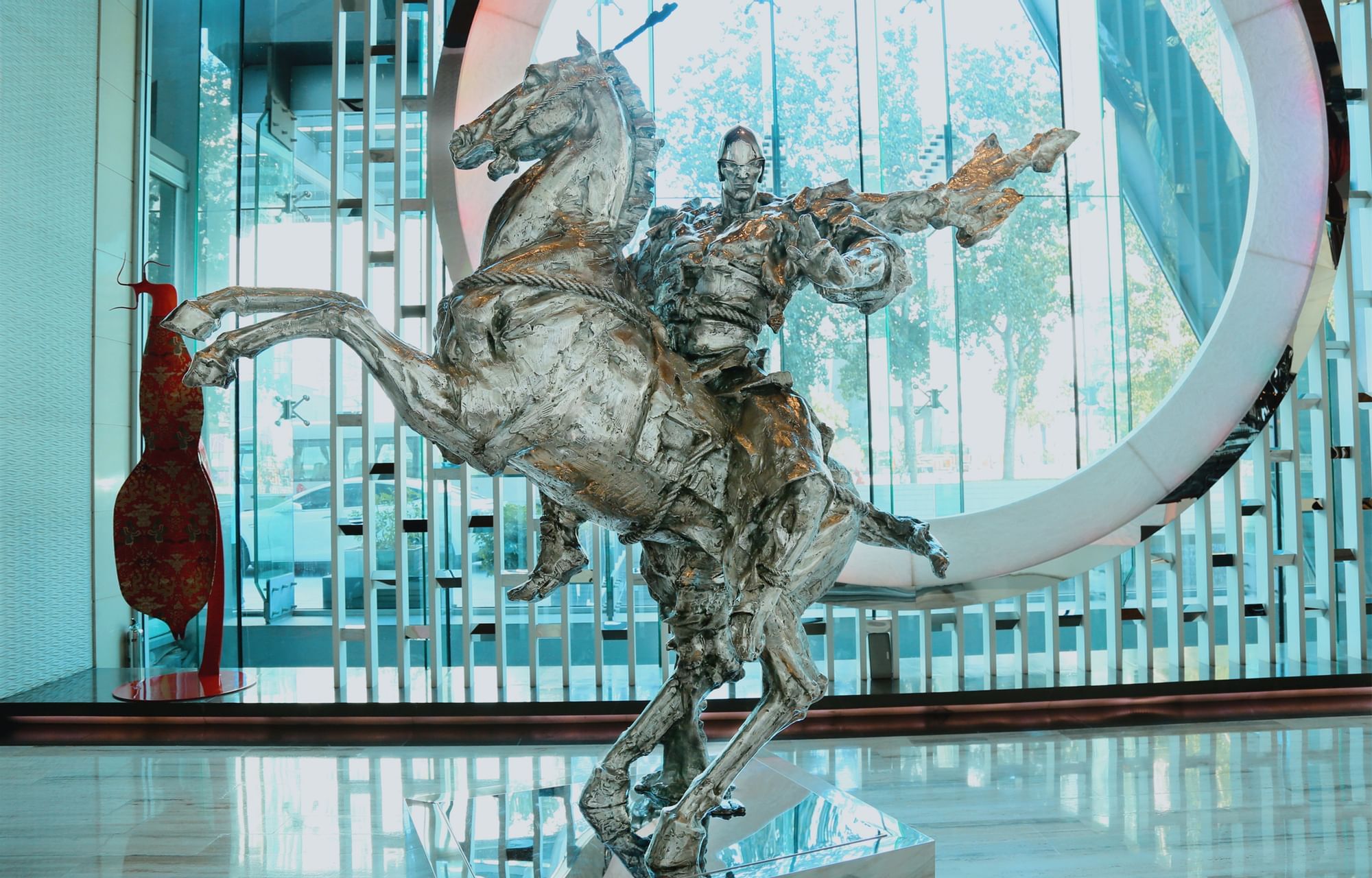 REN ZHE
Born in Beijing in 1983, Ren Zhe graduated from the Department of Sculpture, Tsing Hua University with Bachelor's and Master's Degree. The artist currently lives and works in Beijing. His works are collected by organizations such as The Palace Museum, the National Art Museum of China, Parkview Green FangCaoDi, Ion Orchard Singapore, Hong Kong Parkview, etc.
For more Art Information please visit: https://parkviewgreen.com/en/art/art-collection/